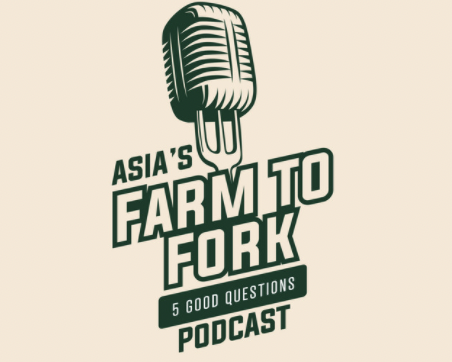 SEASON FINALE – Year End Round Up Episode: Part 1 ; Part 2; Part 3 / Dec 2022-— Since the podcast was started in April 2021, different experts have shared their insights in the whole season of 27 episodes. A question that we have asked for all our guests – "If you look into the crystal ball to see how things are in the future, what would you hope to have happened?" Here are the three installations of what our guests have to say about the future of food in this season round up!
EPISODE 27 – Prof. Siti on Addressing Food Security and Digitalisation, Nov 2022 — Dr. Siti Abdul Malek, Associate Professor, Singapore Institute of Technology, highlights drivers of food insecurity, malnutrition and affordability of nutritious foods as key items to be addressed globally and regionally. She also talks about digitalisation and innovation as ways to help elevate smallholder farmers' livelihood and climate resiliency, and how this is an essential means to address global food security and climate change.
EPISODE 26 – Hon Mun Yip on Food Technology and Cooperation for Food Security, Oct 2022 — Leader and Private Investor in Alternative Proteins, Hon Mun Yip, gives us valuable insights on food technology and how it could guide the world towards self-sufficiency in the age of the pandemic, conflicts and climate change. Hon Mun highlights the importance of global and regional cooperation to bring food agenda forward, and expresses his high hopes that the future would see greater acceptance of alternative food sources.
EPISODE 25 – Fitrian Ardiansyah on Climate Change and Sustainability of Food Systems, Oct 2022 — Here, Fitrian Ardiansyah, Global Envoy for Nature-based Solutions and Country Director for Indonesia and Malaysia IDH – The Sustainable Trade Initiative, shares about sustainability on food systems. He highlights gaps in the systems that could be filled through increased partnerships between organizations and entities because this huge undertaking cannot be addressed by any one single entity. He also introduces many practical solutions on how to bridge these gaps so that smallholder farmers may receive the required support to increase yield output and their economic growth and livelihood, while at the same time moving towards a more sustainable way of farming.
EPISODE 24 – John Cheng on Food Innovation and Private-Public Partnerships, Aug 2022 — In this episode, John Cheng, Founder and Managing Director, Innovate 360, speaks to us about the importance of alternative food sources in alleviating food insecurity. He highlights some of the important initiatives that Innovate 360 has done in collaboration with both public and private sectors to push new technologies forward with both public and private sectors to push new technologies forward and how these partnerships are essential for the food security agenda.
EPISODE 23 – Jun 2022; Here, Rob Hulme, CEO & Group Director, The Boralis Group about food systems and technology transfers that are vital in helping smallholder farmers move towards sustainable farming. During the podcast, Rob also spoke about how along with agri-tech, systems and processes set up to help farmers gain accessibility to these technologies are just as important in the food value chain.
EPISODE 22 – Jun 2022; In this episode, Sonny Tababa, Director, Biotechnology Affairs, CropLife Asia, talks to us about food safety and how gene editing technologies and plant science innovations, together with regulatory processes could help propel the food system forward, not just for food security but also for the health of all humankind. Sonny highlights the long process for biotech products to be commercialized, and shared success stories across Southeast Asia, like Golden Rice in the Philippines that will bring hope to both farmers and consumers alike.
EPISODE 21 – May 2022; Listen as we speak to Luke Tay, futurist, strategist, and founder of Cornucopia FutureScapes, and a Singapore Futures Fellow at the Lee Kuan Yew School of Public Policy's Executive Education Programme, on the future outlook of technology and food systems. Luke highlights the importance of redefining the way we approach technology in agriculture especially in the current climate – to think spatially and weigh the case and opportunities for shifting more production closer to demand, and to work on the demand side to ease and enable the adoption of new foods and tech. He also provided insights on how we as stakeholders should approach the agri-food system to enable collaboration at all levels.
EPISODE 20 – April 2022; As we celebrate Earth Day 2022 together with Imelda (Dada) Bacudo, Co-Chair with the Global Alliance for Climate Smart Agriculture, Senior Consultant and Expert on Climate Smart Agriculture, Land Use Policy and Climate Finance, and Convener with the ASEAN Climate Resilience Network, she discusses the importance of government and private sector cooperation in order for technological transfers and essential advancements that will help farmers, and at the same time address climate change issues. She highlights the role of governments as negotiators of climate change policies, and also the advantages of partnerships in tackling climate change.
EPISODE 19 – March 2022; In this episode, Mei Ing Cheok, Food & Agriculture, Corporate Partnerships (Asia), Save the Children, discusses what Save the Children is doing and how child labour in agriculture is a pertinent issue to be resolved especially in the Southeast Asia region. Mei Ing highlights some sobering statistics on what children are experiencing on a daily basis, including the factors that might exacerbate the ongoing situation. Mei Ing also talks about the initiatives that Save the Children has been working on, and working with partners on various levels because this is "too big of an issue for any one organization to tackle alone."
EPISODE 18 – March 2022; Here, we spoke to Timothy Loh, Regional Director (Southeast Asia), U.S. Soybean Export Council (USSEC), to discuss the work that USSEC is doing and how innovation and technology are pertinent to improve the livelihood and productivity of the global food system. He provides a spotlight on the world's agricultural system from a U.S perspective, which provides valuable insights to the industry in the Asia-Pacific region as well. He also highlights the importance of partnerships within the industry that will push the industry towards achieving the UN SDGs, and towards a sustainable global food system for the future.
EPISODE 17 – March 2022; To celebrate International Women's Day, we have Elizabeth Hernandez, Head of External Affairs and Sustainability, Asia Pacific, Corteva Agriscience speak to us about the women in agriculture, highlighting some of the challenges they face as smallholder farmers. Elizabeth also discussed how Corteva Agriscience seeks to close the gender inequality gap with some of their initiatives, as well as the importance of partnerships in the field, to allow for innovation and technology to reach the farmers that need them the most.
EPISODE 16 – February 2022; For this special episode celebrating International Day of Women and Girls in Science, Dr Rhodora Romero-Aldemita, Executive Director, ISAAA, provides essential advice to young women exploring a career in science along with her views on the adoption of modern agriculture. Dr Rhodora also discussed how the different forms of agricultural technology can help to improve the lives of farmers and the food supply chain, particularly in Asia. Listen in to hear her hopes and dreams of a world where policymakers would see the importance of ensuring farmers get access to modern technology, and also the adoption of it to ensure a better world that is food secure.
EPISODE 15 – January 2022; Released in time for Lunar New Year, learn more about farmers and how they put food on our table with our guest, Dr. May Chodchoey, Executive Director of The Asia and Pacific Sees Association (APSA). Dr. Chodchoey shares her thoughts on the importance of quality seeds for our smallholder farmers; the challenge of driving regional food security in a sustainable way; and the increasing effect of climate change is having on the food supply chain.
EPISODE 14 – December 2021; In this episode, we spoke to Suriyan Vichitlekarn, Executive Director, Mekong Institute, to discuss the work that Mekong Institute is doing in the Greater Mekong Subregion (GMS) and how innovation and technology are pertinent to improve the livelihood and productivity of farmers. In this podcast, he highlights many topics that are close to the heart of what the industry should hope to achieve, for farmers and for the world's food economy, which includes closer collaboration among stakeholders.
EPISODE 13 – October 2021; In this episode, we spoke to Alex Berkovskiy, Regional Director, Asia-Pacific Syngenta on World Food Day to discuss his thoughts on the current food value chain, and how changing perspectives of farm to fork would help to advance the agenda of food security for all. He also discusses his hopes for stronger collaboration among stakeholders to create a better food value chain.
EPISODE 12 – Sep 2021; In this episode, we spoke to Professor William Chen, Michael Fam Chair Professor in Food Science and Technology and director of the programme in Nanyang Technological University. In this timely conversation for the International Day of Food Waste and Loss, he shares his perspective on the current food supply chain, and the role of the individual in ensuring minimal food waste and loss to ensure food security for all.
EPISODE 11 – Sep 2021; In this episode, we have the pleasure of hearing from the honorable Ted McKinney, former Undersecretary for Trade and Foreign Agricultural Affairs of the USDA. He shares his perspective on the process leading up to the Food Systems Summit; how to ensure food systems are more resilient and sustainable; and the role of innovation in helping support farmers while driving progress with the Sustainable Development Goals (SDGs).
EPISODE 10 – August 2021; In this podcast, the spotlight is on climate change's connection to food security. Dr. Paul Teng, Managing Director at National Institute of Education International (NIEI) Pte. Ltd., discusses the status of regional food security, current trends, the importance of sustainability with food production, and his thoughts on what's needed to ensure and improve farmer livelihood in Asia.
EPISODE 9 – August 2021; In celebration of the International Youth Day, we speak to Jolene Lum, a young agri-preneur and Group CEO of Urban Tiller. Here, she discusses some of the challenges that small-scale farmers face, and how she positions her business to address that sustainably.
EPISODE 8 – August 2021; In this episode, we had a timely conversation with Dr. Sianghee Tan, Executive Director of CropLife Asia, on some of the statistics that were shared by the United Nations in the newly published 2021 State of Food Security and Nutrition in the World report. Dr. Tan emphasized the need for heightened cooperation between stakeholders, regulators and government in dealing with the issue of food security, and pointed out some factors that could help improve our food systems.
EPISODE 7 – July 2021; In this episode, we had an insightful conversation with Dr. Mahaletchumy Arujanan, Global Coordinator at the International Service for the Acquisition of Agri-biotech Applications (ISAAA), and also Executive Director, Malaysian Biotechnology Information Centre (MABIC), on the need for science-based decision making when it comes to food security as well as the game-changing role technology can play in the food value chain. Dr. Mahaletchumy also shared her thoughts on the newly published 2021 State of Food Security and Nutrition in the World report by the United Nations.
EPISODE 6 – July 2021; In this episode, we spoke to Dr. Glenn Gregorio, Director, Southeast Asian Regional Center for Graduate Study and Research in Agriculture (SEARCA) where he shares insights on challenges faced by Asia's smallholder farmers, and his hopes for stronger collaboration between academe, industry and the government to allow a sustainable transformation of the food system moving forward.
EPISODE 5 – June 2021; In this episode, we welcome Susanna Hasenoehrl, Director Sustainability and Growth & Commercialisation, Digital Farming (Asia), Yara International. She shares her insights on the food value chain and some of the impacts of COVID-19 on smallholder farmers in Asia. This episode also discusses some industry solutions to improve the situation for all in terms of food security, and also optimistic views for the industry moving forward.
EPISODE 4 – May 2021; In this episode, we welcome Jens Hartmann, Regional Head (APAC), Head of Commercial Operations – Asia Pacific, Bayer Crop Science on International Day for Biological Diversity. Jens shares his insights on the importance of technology and innovation in agriculture, and how they can help make agriculture more sustainable while also driving productivity. He also discusses the positive effects that digital developments and connectivity can have on the region's smallholder farmers, especially in the time of the pandemic.
EPISODE 3 – May 2021; In this episode of the podcast, we spoke to Temina Lalani-Shariff, Director of Brand and Advocacy, International Rice Research Institute (IRRI). In the interview, Temina shares her thoughts on food security, the troubling rise of hunger in the world, and the role of rice. She also provides insight into IRRI efforts being led through the Sustainable Rice Platform (SRP) as well as an update on progress with 'Golden Rice'. This episode is an in-depth conversation into Asia's food value chain and a must-listen.
EPISODE 2 – April 2021; For the World Day for Safety and Health for Workers, we spoke to Delisa Jiang, Director of Sustainability and Advocacy with CropLife Asia. In the interview, Delisa shares her thoughts on the critical importance of health and safety on the farm, the growing role innovation and new technologies like drones are playing in Asian agriculture, and progress with industry stewardship programs that she's helping lead. Delisa also offers interesting insights with a project CropLife is undertaking to utilize behavioral science learnings to promote crop protection responsible use and better ensure regional farmers' health and safety.
EPISODE 1 – April 2021; To ring in #EarthDay, we bring you our first episode – '5 Good Questions' with Mr. Gustavo Palerosi Carneiro, Sr VP Agricultural Solutions Asia-Pacific, BASF and also President, CropLife Asia. In the interview, Gustavo shares his thoughts on a number of topics, including: sustainability in agriculture; smallholder farmers in Asia and how they drive regional food systems; and the growing importance of innovation and technology in food production.