The 10th Pan-Asia Farmers Exchange Program, organized by CropLife Asia, CropLife Philippines and Biotechnology Coalition of the Philippines (BCP) was held on Mar 14-18, 2016 in the Philippines. A total of 26 participants – farmer and farmer leaders, government officers, scientists, researchers and members of the media from Australia, India, Korea, Malaysia, Philippines, Thailand and Vietnam participated in the event.
Attendees learned about plant biotechnology and its benefits, the importance of science-based and functional biosafety regulatory framework, and the different biotech initiatives and experiences happening in other countries. Among the experts who presented were Dr. Gabriel Romero, Regulatory Affairs Lead of Monsanto Philippines, who presented an overview of modern biotechnology; Mr. Abraham Manalo, Executive Secretary, BCP, who introduced the Philippine Biosafety Regulatory Framework for Agricultural Biotech Crops; Ms. Jenny Panopio, Senior Regulatory Affairs Associate, Asia-Pacific at DuPont-Pioneer, who shared experiences in communicating biotechnology and biosafety in the Philippines; Mr. Simeon Cuyson, Executive Director, CropLife Philippines, who talked about prevention of soil erosion in upland corn areas; Dr. Bruce Tolentino, Director-General, International Rice Research Institute (IRRI), who introduced its mission in helping attain food security through its various researches and projects; and Dr. Violeta Villegas, Golden Rice Network Coordinator, IRRI, who elaborated on the Golden Rice Project.
Besides having seminar briefings on biotechnology, the participants were able to visit the Rice World Museum, laboratories, gene bank and golden rice screen house of IRRI; the Monsanto Philippines Refuge-In-Bag (RIB) Plant; and Syngenta Learning Center for gm corn, where they were also given a chance to eat cooked gm corn. Participants were also able to interact with actual gm corn farmers, Romulo Gabriel, Alberto Gabriel and Rodolfo Pascual, who shared how their lives improved when they started planting gm corn.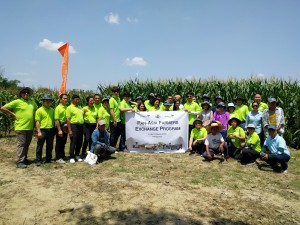 And to recognize 20 years of plant biotechnology, the program was ended with a themed lunch, "Table for Twenty", where organizers, participants and guests from the Department of Agriculture – Bureau of Plant Industry, International Service for the Acquisition of Agri-biotech Applications (ISAAA) and SEARCA – Biotechnology Information Center were able to converse on their agri-biotech experiences and challenges, and possible actions to these challenges.
Click this link to see more photos of the event.