By: CropLife International
When disaster strikes, there's a way for everyone to help, even those not directly affected. CropLife India modeled that humanitarian response when it mobilized its long-cultivated partnerships in an outreach campaign to stop the devastating spread of COVID-19 in local farming communities.
The initiative was the brainchild of Sony Mamgai, CropLife India's Senior Manager – Stewardship & Anti-Counterfeiting, who was determined to help farmers and their families. "It suddenly clicked, and I thought to develop a poster on safety points in farming during the pandemic."
The poster was a hit and widely adopted. Mamgai then came up with ideas for animated videos and social media campaigns, crafting rhyming jingles and catchy lines that quickly caught on. CropLife India also leveraged its relationships with industry groups, farmers associations, and government agencies to disseminate information, conduct virtual trainings, and directly engage with rural populations with poor internet service.
"It was good to see people were active even during these difficult times and wanted to collaborate with us," she says.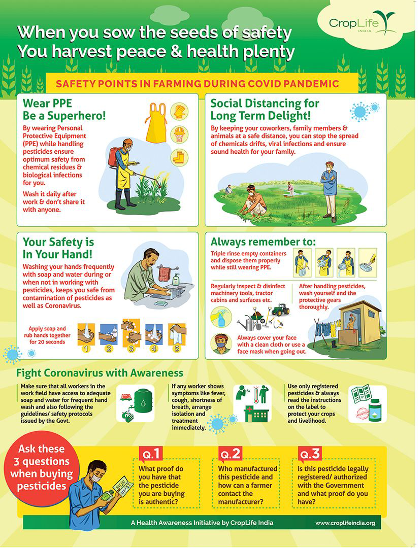 The outreach ranged from sharing COVID prevention protocol with farmers to training health care workers in how to discern pesticide exposure from the novel coronavirus, as well as good agricultural stewardship practices and vaccine advocacy. CropLife India also launched campaigns expressing gratitude to farmers "for putting food on our plates and appreciating the contributions of rural women and children," Mamgai says.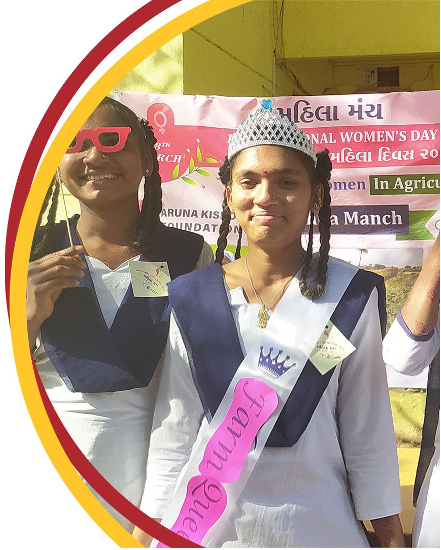 Ultimately, CropLife India reached more than 2 million people, an accomplishment that won accolades and awards from government, industries, and various associations. Farmer testimonials were similarly positive, describing the outreach as both helpful and reassuring that the situation was improving.
The suffering caused by the pandemic was exacerbated by the arrival of pests. When locusts swarmed through western India, CropLife India came into action with a two-pronged strategy. CropLife advocated the use of drones for pesticide application, a policy that needed to be considered carefully during a rapidly unfolding situation. India ultimately became the first country to permit the emergency use of drones by government agencies for insecticide applications during locust attacks. As the government deployed helicopters and drones to control the insects, CropLife issued advisories to help farmers ward off the locusts with the responsible use of pesticides.
In reflecting on the successes of the past 18 months, Mamgai credited strong teamwork and good guidance received from the stewardship committees of CropLife India, CropLife International and CropLife Asia. She also interacted with stewardship teams in Latin America to gain their ideas for making the initiative robust.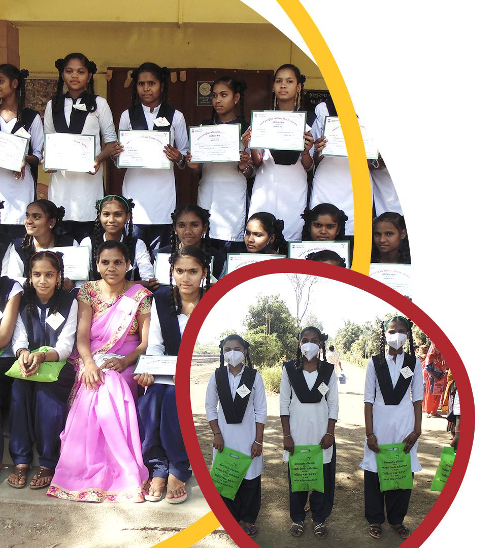 "It's kind of an emotional thing for me," says Mamgai, noting that the effort both humanized and elevated CropLife during the pandemic. "During these dubious times, maintaining an emotional yet informative relationship with our farm heroes is foremost for creating mechanisms to reach out to them effectively via various platforms. We emerged as a key partner in the entire agricultural community of India."
She also shared a few helpful tips for a successful outreach campaign.
"First, whether it is a challenging time or not, we should react in a timely way. It will help us and the end user. Second, always try to forge new partnerships. You can't do it alone. You need help from others. Third, don't forget the influencers, like the women and children. They are the future of agriculture. And finally, we should think out of the box like the pandemic taught us…digitalization can help us amplify messages, but you have to maintain an emotional and intellectual connection with stakeholders, especially in rural areas where the internet isn't strong."